Welcome to Lafayette Township
---
Committee Members Needed
Want to get involved in serving the community? The Township has current vacancies on the Open Space Advisory Committee and Recreation Commission. If you're interested, fill out the Volunteer Application and forward to: AnnaRose Fedish, RMC, Municipal Clerk, Lafayette Township, 33 Morris Farm Road, Lafayette, NJ 07848
Download the Volunteer Application
---
Notice about Unsolicited Seeds
The NJ Department of Agriculture has been receiving reports of people receiving seeds in the mail from China that they did not order. Sometimes the seeds are sent in packages stating that the contents are jewelry. Unsolicited seeds could be invasive, introduce diseases to local plants, or be harmful to livestock. Here's what to do if you receive unsolicited seeds from another country:
DO NOT plant them and if they are in sealed packaging don't open the sealed package.
Take a photo of the package and seeds and send the photos to the New Jersey Department of Agriculture to joseph.zoltowski@ag.nj.gov and USDA SITC at SITC.Mail@aphis.usda.gov
This is known as agricultural smuggling. Report it to the USDA! Maintain the seeds and packaging and send to the USDA Office located at 1500 Lower Rd, Linden NJ 07036 for evidence. If individuals are aware of the potential smuggling of prohibited exotic fruits, vegetables, or meat products into or through the USA, they can help APHIS by contacting the confidential Anti-smuggling Hotline number at 800-877-3835 or by sending an email to
SITC.Mail@aphis.usda.gov
. The USDA will make every attempt to protect the confidentiality of any information sources during an investigation within the extent of the law.
Do not plant seeds. Take picture and send to AG and USDA. For more information go to nj.gov/agriculture/news/hottopics/topics200727.html
Municipal Building Reopens to the Public
The Lafayette Municipal Building reopened to the public on Tuesday, May 26, with the following restrictions:
Only 10 residents will be allowed in the building at any one time.
Residents MUST wear a mask.
Maintain the 6-foot distancing guidelines (markings on the floor).
Please keep your time in the building to the business at hand and not for "visiting".
We look forward to seeing our residents!
---
Economic Injury Disaster Loan (EIDL) and EIDL Advance Program
June 18 - The U.S. Small Business Administration announced they have reopened the Economic Injury Disaster Loan (EIDL) and EIDL Advance program portal to all eligible applicants, including U.S. small businesses and nonprofits. After funds for the program were replenished in April, the SBA limited access to these funds to agricultural businesses only, and we are pleased that they have decided open applications back up to other industries in need of relief. For more information on EIDL programs, visit: sba.gov/funding-programs/loans/coronavirus-relief-options/economic-injury-disaster-loan-emergency-advance In addition, the SBA released a "Revised" Payroll Protection Program application for forgiveness making changes necessitated by the PPP Flexibility Act. New guidance and a new EZ form were introduced as well. As for the application, some notable changes include:
The application is now five (5) pages long without all of the explanations and instructions from the first iteration. Instructions are separated into a second document.
Changes were made to reflect the new expense ratio of 60% payroll expenses to 40% non-payroll expenses.
The new owner-employee compensation limit of $20,833 for a 24 week covered period and 2.5 months of 2019 net profit (up to $20,833) of an owner-employee are identified.
The FTE safe harbors for inability to hire or business level deficiency are included.
The SBA added an EZ form for borrowers who are either self-employed, those who did not reduce salary and wages by more than 25% and did not reduce the number of employees (except for the safe harbor exceptions), or the borrower did not reduce salary and wages by more than 25% and the borrower was unable to operate at the same level of business activity because of government regulations. The EZ form has its own set of instructions as well.
The guidance also identified the new compensation limits for non-owner and owner employees identified in the new applications. The owner employee limitation applies to the owner for ALL OF THE BUSINESSES WHICH THEY OPERATE and for which loans were taken. So, an owner employee with multiple business interests, each of which is a separate borrower, is limited to a single compensation cap, not separate caps for each business interest. In addition to the new owner-employee cap of $20,833 for 2.5 months of 2019 net profit, the non-owner employee compensation maximum is now $46,154.
Please visit the REVISED Loan Forgiveness Application at: home.treasury.gov/system/files/136/3245-0407-SBA-Form-3508-PPP-Forgiveness-Application.pdf. To review the EZ form please visit: https://home.treasury.gov/system/files/136/PPP-Forgiveness-Application-3508EZ.pdf
---
Prevent the Spread of COVID-19
The New Jersey Hospital Association has issued two publications on tips to prevent the spread of COVID-19. Click on the title to read The Dos and Don'ts of Prevention | Using Cloth Face Coverings.
Department of Labor Announces New Web Portal
The Department of Labor created a new web portal that allows New Jersey residents to contact the Department of Labor directly. This is a helpful tool for residents who have questions about their applications. To submit a message, residents must go to myunemployment.nj.gov and follow the instructions below:
On the top navigation, scroll to the right for "Need Help" and unveil the drop down menu
Choose Send an Email
Choose Email: Submit a message through our new online form.
Follow the prompts
Please see the screen shots below for visuals.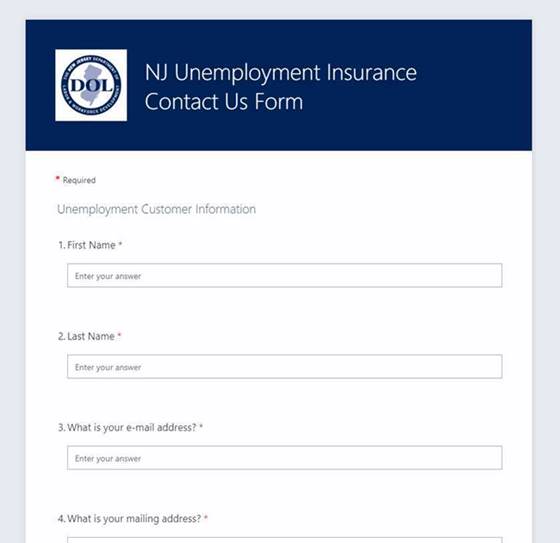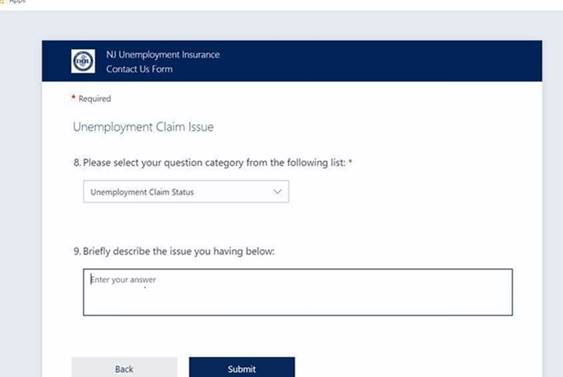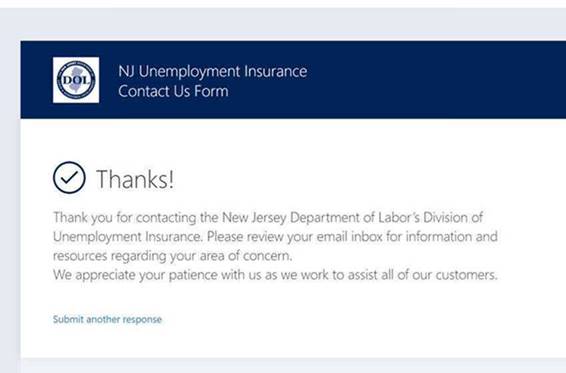 ---
Greetings Farming Community:
Stephen Komar, Sussex County Ag Agent, would like to share the following information and link with you:
April 15 - The Department of Homeland Security, with the support of the U.S. Department of Agriculture (USDA), has announced a temporary final rule to change certain H-2A requirements to help U.S. agricultural employers avoid disruptions in lawful agricultural-related employment, protect the nation's food supply chain, and lessen impacts from the coronavirus (COVID-19) public health emergency. Click here to go to the USDA website for press release.
SC DOH PSA
April 15 - The Sussex County Department of Health has released a Public Service Announcement, Do Your Part to Help Slow the Spread of Illness. Click here to view the PSA on YouTube. For more videos, the County's YouTube Channel is https://youtube.com/sussexnj
Food Pantry and Delivery information
Need food pantry home delivery? The Hunger Coalition stakeholders and the Sussex County Human Services Advisory Council are collaborating to create a safe, efficient method of food distribution for those in Sussex County. A list of the most up-to-date food pantry services currently being offered can be found at sussex.nj.us/documents/coronavirus-2020/food-pantry-update.pdf.
NORWESCAP Pathways 2 Prosperity is offering food delivery services every Tuesday for those who are not able to drive or lack transportation. To request delivery service please call 973-862-6680 or email morrisond@norwescap.org for further details. For information regarding how you can contribute donations please contact Jennifer Salt at jsalt@zufallhealth.org.
USDA Tool to Help Rural Communities Address the COVID-19 Pandemic
April 13 - The USDA announced a one-stop-shop of federal programs that can be used by rural communities, organizations, and individuals impacted by the COVID-19 pandemic. (see press release.) The COVID-19 Federal Rural Resource Guide is a resource for rural leaders looking for federal funding and partnership opportunities to help address this pandemic. The USDA has taken actions to assist farmers, ranchers, producers, rural communities, and rural-based businesses and organizations impacted by the COVID-19 pandemic. For more information on the USDA and COVID-19, visit usda.gov/coronavirus.
Sussex County Update
March 31, 2020
a. The Sussex County Division of Health COVID-19 Hotline is now open. Residents may call the Hotline number at 973-579-9488 to speak with a Sussex County Division of Health (SCDOH) staff member or Sussex County Medical Reserve Corps volunteer. The Hotline's hours of operation are Monday through Friday from 9:00 a.m. to 4:00 p.m.
––––––––––
b. For those in need of emergency home food delivery should contact NORWESCAP Pathways 2 Prosperity at 973-862-6680 (note that the caller will need to leave a message / calls are being returned off site). The service is being extended to those who do not have the capacity to leave their homes in order to purchase food themselves. Food is being delivered on Tuesday every week, and will only be dropped off curbside. Food will not be brought into the home under any circumstance at this time. A complete list of food pantries and current human service provider offerings can be found on the County website and are updated daily.
––––––––––
c. The Sussex County Division of Social Services has implemented temporary changes for social services administered locally to make the application process and receipt of benefits easier for those in need. The Social Services agency is open Monday through Friday from 8:30 a.m. to 4:30 p.m. and can be reached by calling 973-383-3600 or emailing info@dss.sussex.nj.us. The Social Services food pantry is open during the hours of operation. The Social Services agency will conduct interviews by phone in order to reduce exposure during this public health crisis. Residents are encouraged to apply for all benefits online at https://www.njhelps.org/. This is the easiest, fastest manner to apply. A paper application can be mailed to applicants who do not have access to the internet.
––––––––––
d. Sussex County Adult Protective Services (APS) staff continues to take referrals and investigate cases. Seniors or disabled who are vulnerable may call Social Services at 973-383-3600. Staff will visit or contact the most vulnerable clients weekly.
––––––––––
e. Applicants or clients who need to deliver paperwork to the office, can fax, mail or deposit items in the drop box located near the rear entrance of the Social Services building at 83 Spring Street in Newton. Paperwork can be mailed to the Sussex County Division of Social Services at PO Box 218, Newton, NJ 07860, or faxed to 973-383-3627. The agency can be reached by calling 973-383-3600. Residents are encouraged to visit the Sussex County website at https://www.sussex.nj.us for important updates pertaining to services and the COVID-19 virus.
---
State Update
April 2, 2020
Federal Resources to Help Combat the Coronavirus. Letter from Josh Gottheimer:
Dear Friend:
I hope you and your families are staying safe and healthy. I wanted to share with you a guide we developed to help navigate the recently enacted bipartisan federal legislation regarding Coronavirus response. Please feel free to share with others, and I will update the document as we take additional measures. In the meantime, please feel free to reach out to me at any time (201) 250-1681 or at Josh.Gottheimer@mail.house.gov. Thank you for your leadership and please let me know what we can do to help.
Sincerely, Josh Gottheimer, Member of Congress
Click here to read the summary of the Congressional Action to Combat the Coronavirus.
––––––––––
April 1, 2020
The ongoing COVID-19 pandemic has caused hardships, financial strain, and disruptions for many New Jerseyans and New Jersey businesses. As part of our response, we have reached agreement that the state income tax filing deadline and the corporation business tax filing deadline will be extended from April 15th to July 15th. Additionally, as part of the whole-of-government effort that is going into fighting COVID-19, we have agreed that the state fiscal year should be extended to September 30th . This will allow the Administration and the Legislature to focus fully on leading New Jersey out of this crisis, and to allow for a robust, comprehensive, and well-informed budget process later in the year. We are committed to working together to enact the necessary legislation and supplemental appropriations to accomplish these goals.
––––––––––
March 31, 2020
a. Governor Murphy signed into law Senate, No 2304 (Sweeney D-3/Scutari D-22)(Sumter D-35/Chapparro D-3), which expands the scope of the State's temporary disability insurance (TDI), so that workers may obtain TDI or Family Leave Insurance (FLI) benefits by expanding that law's definition of a "serious health condition" for which a worker may obtain the benefits, either for the worker's own condition in the case of TDI benefits, or for the condition of a family member of the worker cared for by the worker in the case of FLI benefits.
In summary, the new law declares that during a state of emergency declared by the Governor, Commissioner of Health, or other public health authority, a "serious health condition" includes an illness caused by an epidemic of a communicable disease, a known or suspected exposure to a communicable disease, or efforts to prevent spread of a communicable disease, which: 1) in the case of FLI benefits, prompts the issuance by a public health authority of a determination that the presence in the community of the worker's family member in need of care by the worker, would jeopardize the health of others; or 2) in the case of FLI or TDI benefits, results in the recommendation of a healthcare provider or public health authority that a worker, or a family member of the worker in need of care by the worker, voluntarily undergo self-isolation or self-quarantine as a result of suspected exposure to a communicable disease because the presence in the community of that worker or family member would jeopardize the health of others.
The law also eliminates the current one-week waiting period for disability benefits in the indicated epidemic-related cases. The law further modifies the Family Leave Act (FLA) so that the rights to reinstatement to employment provided to workers by that act are applied to the epidemic-related cases, and modifies P.L.2018, c.10 (C.34:11D-1) so that the earned sick leave provided by that law is provided in all of the epidemic-related cases accordingly. I hope you find this information helpful, and please do not hesitate to contact use with any questions or concerns.
––––––––––
b. The New Jersey Economic Development Authority (NJEDA) Board approved a suite of new programs designed to support businesses and workers facing economic hardship due to the outbreak of the novel coronavirus COVID-19.
The package of initiatives includes a grant program for small businesses, a zero-interest loan program for mid-size companies, support for private-sector lenders and Community Development Finance Institutions (CDFIs), funding for entrepreneurs, and a variety of resources providing technical support and marketplace information. Taken together, they will provide more than $75 million of State and private financial support, with the opportunity to grow to more than $100 million if additional philanthropic, State, and federal resources become available. The initiatives will support between 3,000 and 5,000 small and midsize enterprises and are meant to complement recently announced federal economic recovery initiatives. More information about the programs is available here: https://cv.business.nj.gov.
---
NJ 211
March 20, 2020
NJ 211 is working around the clock to help the residents of New Jersey find the help they need during these difficult times. We are working closely with the NJ Department of Health and the Office of Emergency Management to stay abreast of all of the Executive Orders and mandated closures as well as the government services that are being initiated in response to the COVID-19 pandemic. We are also in direct contact with the many members of our VOAD (Volunteers Organizations Active in Disasters)community. As organizations create short-term resources in local communities, we are sharing that information with the public.
Please visit our website (nj211.org/coronavirus-covid-19) for the most up-to-date listing of government response resources and short-term community resources. We will post these as they become known to us on this page.
Live help on COVID-19 information is also available. Speak to a healthcare professional by dialing 1-800-222-1222 or 1-800-962-1253. For general information & basic needs, dial 211.
Our call volume has intensified this week and our staff (many of whom are working remotely) is working diligently. Despite this, Call/Text/Chat wait times are longer than usual. We are doing our best to serve each caller. Your patience and understanding is appreciated.
One way you can stay informed about the latest news related to COVID-19 is to sign up for our automated text alert and notification system. Simply text NJCOVID to 898-211 to be added to the system. Messages such as expanded business closures and the opening of the Bergen County test site were sent last night. Help us to help you stay informed. Sign up for this alert notification system and share this information with friends and family who live in New Jersey.
---
Sussex County Department of Health Update
April 3
The Sussex County Department of Health is requesting donations of personal protective equipment (PPE). Donations may be brought to the Sussex County Office of Mosquito Control, located at 150 Morris Turnpike in Newton, Monday through Friday from 10 a.m. to 3 p.m. Thank you for helping to protect the safety of our healthcare workers and first responders! Requested items include: Nitrile Gloves (any size), Coveralls/ Tyvek Suits/ Medical Gowns (any size), Face Shields/ Goggles, N95 Masks, Procedure Masks, P100 Masks/ Air Purifying Respirators. Click for more information
April 2, 2020
Certified Disaster Response Crisis Counselors (DRCCs) are available to speak to Sussex County residents who may be experiencing emotional or mental difficulties related to COVID-19. DRCCs are trained to provide disaster mental health services, including psychological first aid and crisis counseling. Click here to read the Crisis Counselors press release.
March 25, 2020
The Sussex County Division of Health COVID-19 Hotline is now open. Residents may call the Hotline number at 973-579-9488 to speak with a Sussex County Division of Health (SCDOH) staff member or Sussex County Medical Reserve Corp volunteer. The Hotline's hours of operation are Monday through Friday from 9:00 a.m. to 4:00 p.m.
Additional information for residents can be found at the following:
Sussex County website sussex.nj.us/covid19
2-1-1 - NJ Department of Health
1-800-962-1253
Text NJCOVID to 898-211 - NJ Department of Health
All residents should continue to monitor their health and exercise good hygiene habits. Actions you can take to help prevent the spread of germs that cause respiratory illnesses like COVID-19 include the following:
Cover your nose and mouth when you cough or sneeze.
Wash your hands with soap and water, especially after you cough or sneeze.
Avoid touching your eyes, nose or mouth.
Avoid close contact with sick people.
Stay home if you are sick.
Practice social distancing to reduce the spread of germs.
Families and individuals should create or update their family emergency plans.
March30
PPE Needed
Due to the current public health crisis, supplies of personal protective equipment (PPE) are low. PPE is critical for healthcare workers and first responders to be able to safely care for our residents. The Sussex County Division of Health (SCDOH) and Sussex County Office of Emergency Management (SCOEM) are asking for the assistance of non-essential businesses or personnel who are willing and able to donate PPE to aid our healthcare facilities and first responders in Sussex County. Click here to read the press release.
The SCDOH is working diligently to monitor those residents who may have been exposed to the virus and to help prevent further spread of COVID-19. The community's health and safety are of primary concern to the SCDOH and the Board of Chosen Freeholders, and all possible steps are being taken to ensure the well-being of Sussex County residents.
The Sussex County website has a wide array of information available to the public on COVID-19 and links to both the CDC and NJDOH at sussex.nj.us. You can also visit the Centers for Disease Control and Prevention at cdc.gov and the New Jersey Department of Health at nj.gov/health. Residents are also encouraged to call the NJ Coronavirus and Poison Center Hotline at 1-800-222-1222 or 1-800-962-1253 if using an out of state phone line with any questions.
---
---
2019 Novel Coronavirus Information & Updates
Due to the continually evolving situation and corresponding information regarding the 2019 novel coronavirus, accessing the State Department of Health and Center for Disease Control web links will ensure consistent and updated messaging pertaining to the 2019 novel coronavirus.
The 2019 Novel Coronavirus Public Call Center (NJPIES) is 1-800-222-1222.
The Office of Homeland Security and Preparedness has published a webpage to help the public distinguish between facts and rumors/disinformation regarding COVID-19.
COVID-19 FAQs - What's closed? What are the signs and symptoms? Who should be tested?
---
News for the Business Community
Eligibility Wizard provides information on which emergency assistance programs to consider for specific needs. Click here for Eligibility Wizard information.
Special websites and web pages have been created to assist business owners with the COVID-19 health crisis. Click here for the Business Resources PDF.
Small Business Fact Sheet provides information on Economic Injury Disaster Loans. Click here for Declaration 16349.
Notice of Economic Injury Disaster Loan Disaster Declaration #16349 due to COVID19. Click here to read NJ_16349.pdf.
---
News and Notices
Open Space Plan Update
The Open Space Committee has issued an update to the Open Space and Recreation Plan. Click here to view draft. Note: This is a 24 MB, 151 page PDF.
Harmony Foundation of New Jersey
The Land Use Board has made the submitted documents available for the pubic. Click here for information about the Harmony Foundation.
Don't Recycle in Plastic Bags
Curbside recycling should not be in plastic bags. details
Our Community
---
Municipal Board Vacancies: details