COVID-19 Information
Due to the continually evolving situation and corresponding information regarding the 2019 novel coronavirus, accessing the State Department of Health and Center for Disease Control web links will ensure consistent and updated messaging pertaining to the 2019 novel coronavirus.
Municipal Announcements
---
Municipal Building Reopens to the Public
The Lafayette Municipal Building reopened to the public on Tuesday, May 26, with the following restrictions:
Only 10 members of the public will be allowed in the building at any one time.
Members of the public MUST wear a mask.
Maintain the 6-foot distancing guidelines (markings on the floor).
Please keep your time in the building to the business at hand and not for "visiting".
We look forward to seeing our residents!
---
COVID-19 Announcements
---
COVID-19 Vaccine Clinic
May 26
The Sussex County Health Department will be holding a COVID-19 vaccine clinic on Thursday, June 10, from 10 a.m. to 3 p.m. at the Hardyston Township Municipal Building (149 Wheatsworth Rd, Hamburg). No appointment needed, just walk in. Must be 18 years old or older. Both the Moderna and J & J vaccines will be available. If you need transportation call Skyland Ride at 973-579-0480. FREE. Click here to see flier.
COVID Vaccine Information for Seniors and Vaccination Sites
January 21
Seniors who are unable to access the internet may call the Sussex County Division of Senior Services at 973-579-0555 for help registering for a vaccination appointment.
Seniors in need of transportation to vaccination sites located throughout Sussex County can contact Skylands Ride at 973-579-0480 for assistance. When possible, please contact Skylands Ride prior to registering for your COVID-19 vaccination so that transportation can be coordinated with your scheduled vaccination date.
Seniors who have questions related to COVID19 may call the Sussex County COVID Hotline Monday through Friday 9 a.m. to 4 p.m. at 973-579-9488.
Currently, there are four vaccination sites in Sussex County:
ShopRite of Newton (call for appointment: 973-579-1119)
ShopRite of Byram (call for appointment: 201-400-8180)
Newton Medical Center - to make an appointment: use MyChart or register at atlantichealth.org/covidvaccine
Sussex County Vaccination site: to make an appointment go to sussex.nj.us/covid19
---
Pre-register for COVID-19 Vaccine
The general public can now pre-register, and this will allow our residents to input their personal, contact, health insurance, and demographic information. It will also allow for individuals to schedule an appointment for those who are immediately eligible based on screening questions. To pre-register for the COVID-19 vaccine please visit https://covidvaccine.nj.gov/.
Prevent the Spread of COVID-19
The New Jersey Hospital Association has issued two publications on tips to prevent the spread of COVID-19. Click on the title to read The Dos and Don'ts of Prevention | Using Cloth Face Coverings.
SC DOH PSA
April 15 - The Sussex County Department of Health has released a Public Service Announcement, Do Your Part to Help Slow the Spread of Illness. Click here to view the PSA on YouTube. For more videos, the County's YouTube Channel is https://youtube.com/sussexnj
Department of Labor Announces New Web Portal
The Department of Labor created a web portal that allows New Jersey residents to contact the Department of Labor directly. This is a helpful tool for residents who have questions about their applications. To submit a message, residents must go to myunemployment.nj.gov and follow the instructions below:
On the top navigation, scroll to the right for "Need Help" and unveil the drop down menu
Choose Send an Email
Choose Email: Submit a message through our new online form.
Follow the prompts
Please see the screen shots below for visuals: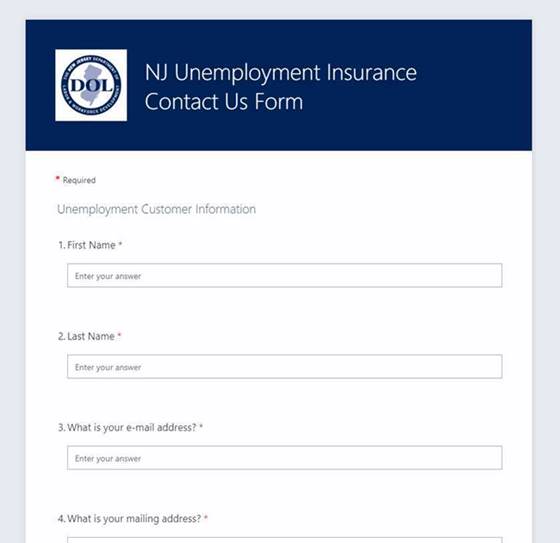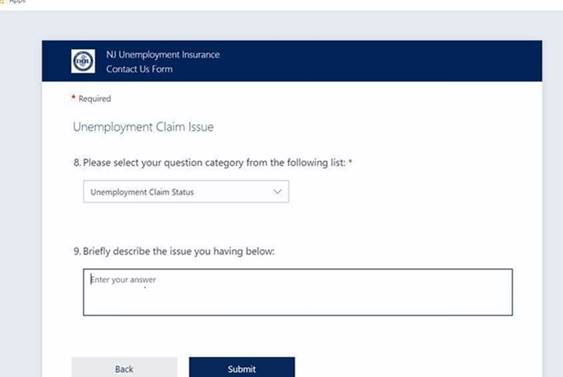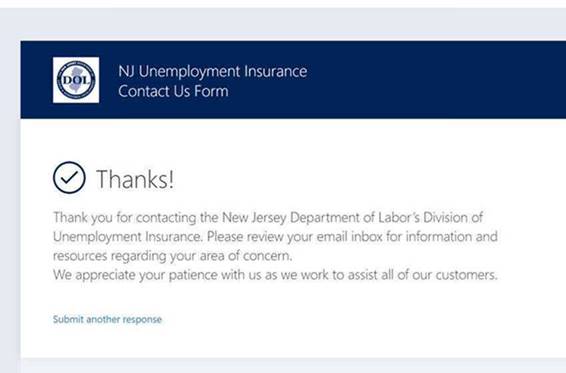 ---
Greetings Farming Community:
Stephen Komar, Sussex County Ag Agent, would like to share the following information and link with you:
April 15 - The Department of Homeland Security, with the support of the U.S. Department of Agriculture (USDA), has announced a temporary final rule to change certain H-2A requirements to help U.S. agricultural employers avoid disruptions in lawful agricultural-related employment, protect the nation's food supply chain, and lessen impacts from the coronavirus (COVID-19) public health emergency. Click here to go to the USDA website for press release.
---